This panto was written in 2003 for the Young Farmers' competition, which is time-limited. Consequently the script is relatively short, and designed around a single set to save time. Humpty Dumpty is written as a magical sprite with an interfering tendency, unlike the traditional nursery rhyme.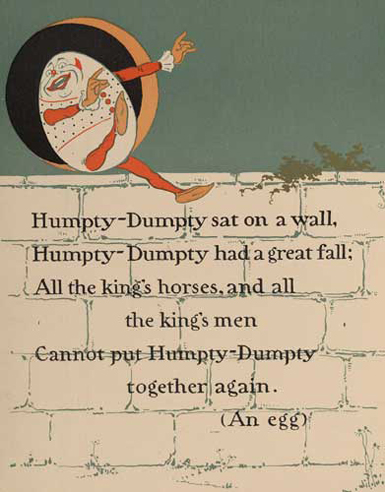 The main set piece is a giant egg-box on hidden wheels, with space enough (and an egg) for Humpty Dumpty – the smallest member of the speaking cast – and two junior cast members to hide inside. There are also seats on either side, so instead of changing scenery, the eggbox is simply revolved to find the next cast members already there, such as the King and Queen.
When the eggbox was made from a base of supermarket stock-carts by a group of young farmers from Hemyock in Devon (I have the specification) it was very solid and effective, but was swung too vigorously so the royal couple had to hang on! The group didn't win their heat unfortunately, but the Wicked Witch took the prize for best female performer, and the young man covered in yellow to play Humpty Dumpty had a real stage presence.
There's a main cast of 10 characters:
Mary, a road sweeper
Fairy Big One
The Wicked Witch of the West
Prince Valiant
Corporal Copper (CC)
Private Policeman (PP)
Humpty Dumpty
King Conk
Queen Quink
Lord High Chamberpot
Here's a sample: